The North Houston Highway Improvement Project
The North Houston Highway Improvement Project began 17 years ago and is broken into 3 segments with the goal of alleviating congestion, keeping up with projected increases in population, and updating design elements and aging infrastructure. Segment 1 is the 9 miles between Beltway 8 and I-610, Segment 2 is the 3 miles between I-610 to I-10, and Segment 3 consists of the 12.3 miles of the Downtown loop system. The whole project is poised to cost between $7 billion to $10 billion.
The NHHIP is an ongoing project. Below is the latest update: 
The proposed North Houston Highway Improvement Project improvements are intended to create additional roadway capacity to manage congestion, enhance safety, and improve mobility and operational efficiency on I-45 from US 59/I-69 to Beltway 8 North, including improvements along US 59/I-69 between I-45 and Spur 527 in Houston.
Who is involved?
TxDOT is in charge of the NHHIP and partners with the Houston Housing Authority (HHA), City of Houston, and countless engineering, surveying and construction firms. The Houston Housing Authority acts as a local administrator of the formerly Section 8, Housing Choice Voucher Program along with the Low-Rent Public Housing Program. They own the Clayton Homes and Kelly Village Properties which will be displaced due to the NHHIP. Through the Housing Choice Voucher Program, qualified residents in these areas can be relocated to anywhere in the U.S.
Who does it effect?
This project will:
add non-tolled managed lanes & full-width shoulders
add biking and pedestrian features along frontage roads
replace outdated left exits
cause 1,224 displacements
demolish 3 historical age properties
expect to add 20 mph to the traffic flow downtown
There have been 14 formal meetings and over 500 chances for public comment on the proposed plan. From those meetings TxDOT learned that the HHA was interested in early acquisition of their affordable housing sites and desired to rebuild within a 1 mile of the existing. The plan with these displacements is to only move residents once and allow them to stay in their current housing until the new site is complete. Those within a 2 mile radius have the right to the first replacement units.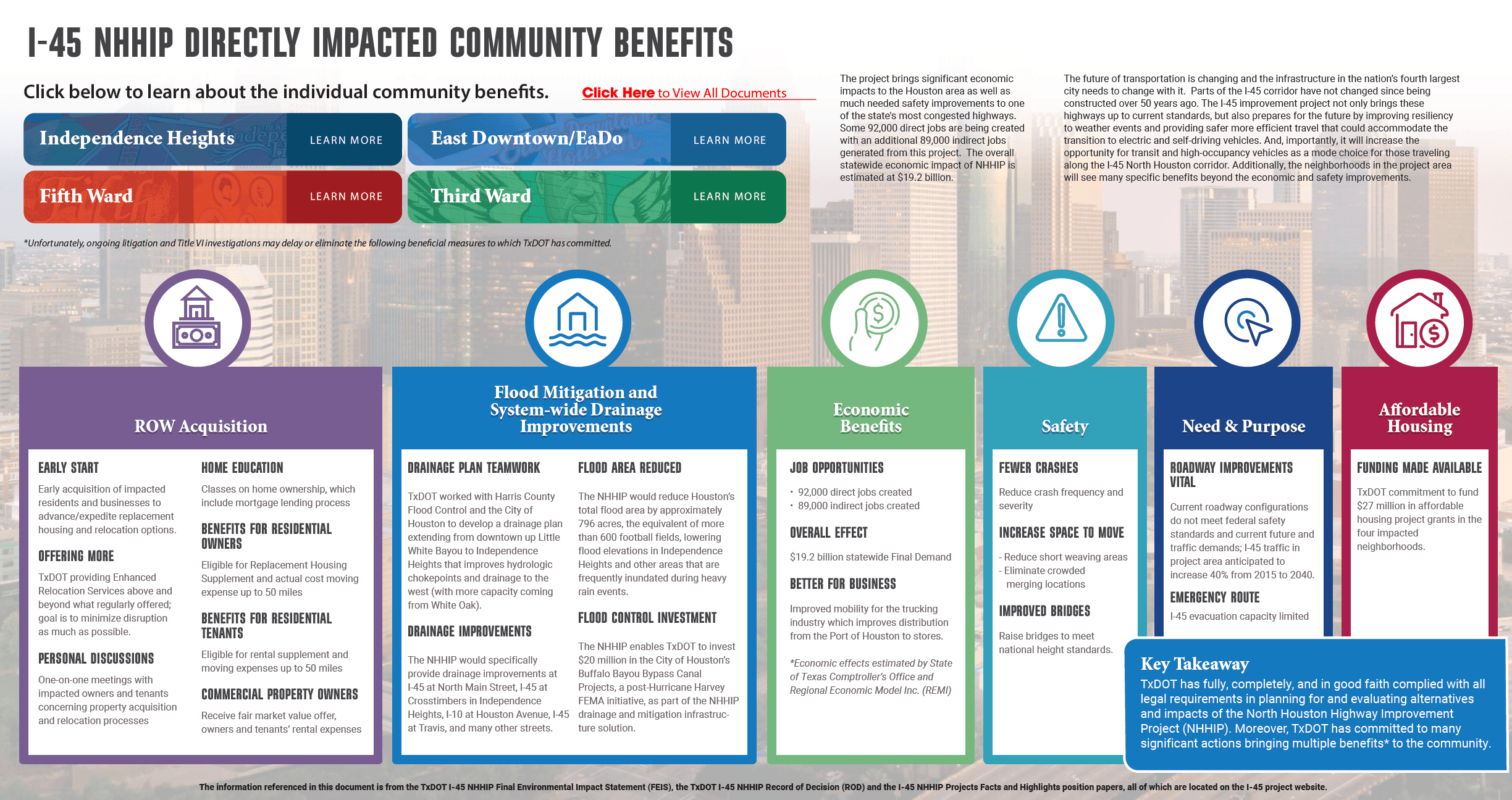 Specified Displacements
Clayton Homes – built in 1952 with a total of 296 units, all of which will be displaced. Currently, only half of the units are inhabitable and HHA wants to fully tear them down.
Kelly Village– built in 1939 with a total of 333 units, of which 72 will be displaced in the current plan.
Resources & Citations
Articles & Testimonials in Support
Using feedback previous community workshops and written comments, the City and its technical team have developed alternative designs to improve and change TxDOT's North Houston Highway Improvement Project. These alternatives were presented for feedback at three community workshops held January 30, February 1 and February 3.
0:00 - Dr. Robert Muhammad/Greater Southeast Management District 1:28 - Pastor Rudy Rasmus/St.