Transportation & Mobility Resources
The 2022 Strategic Mobility Plan was unveiled on March 9th at a reception held at the Marriott Springwoods Village. Click the image or the button below to view our Strategic Mobility Page and learn all about the work put into creating this document! 

Other Significant Mobility Projects
The North Houston Highway Improvement Project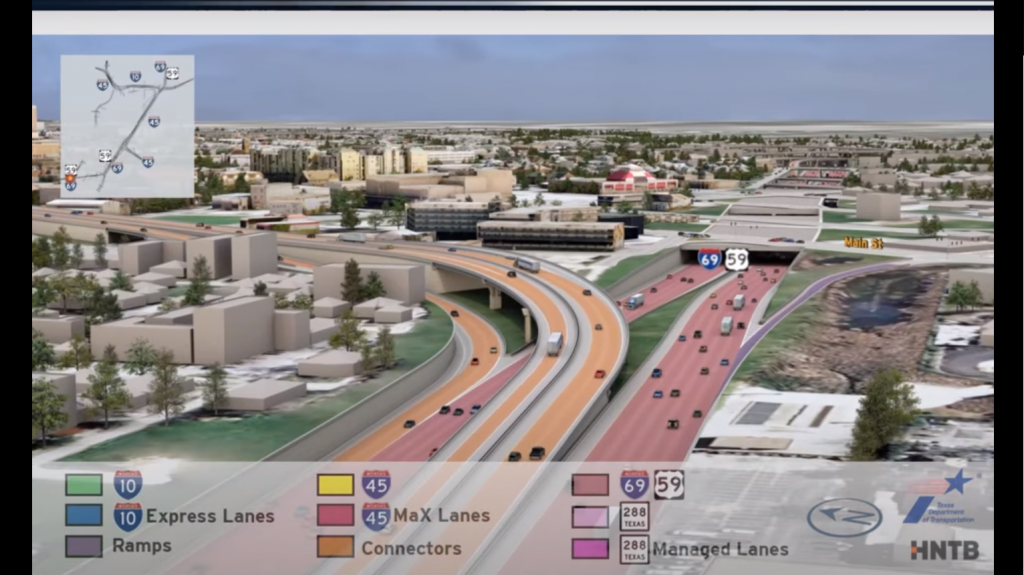 The North Houston Highway Improvement Project (NHHIP) began 17 years ago and is broken into 3 segments with the goal of alleviating congestion, keeping up with projected increases in population, and updating design elements and aging infrastructure.
FM 1960 Access Management Study from East Gatewick (just east of I-45) to BF 1960A (east of I-69) in Harris County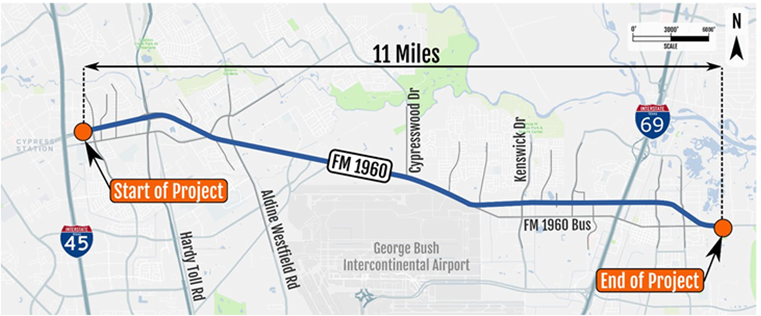 In 2019-20, NHA served on an FM 1960 Access Management steering committee and was a key stakeholder in the study corridor.  This study aimed to reduce crashes, improve mobility, and better plan how vehicles moved through the corridor using access management.  Access management is a toolbox of engineering treatments that helps to eliminate conflict points on a roadway.  There is a correlation between the number of conflict points per mile in a corridor and crashes and mobility.  As conflict points increase per mile, crashes increase, and mobility decreases.  Other contributing factors to crashes in a corridor include the number of lanes, traffic volume, and speed.  FM 1960 featured many of the characteristics that necessitate access management: an eight-lane roadway with a continuous two-way left turn lane, high volume traffic, dense driveways, and higher posted speed limits.
TxDOT chose to perform the study to look at low-cost, high-impact treatments to reduce crashes and improve mobility because of the safety concerns presented in the data and observation.
As part of the year-long study, TxDOT convened a contract steering committee composed of subject matter experts from local jurisdictions to help guide the technical aspects of the study. They also met with key stakeholders in the corridor, such as Deerbrook Mall, ISDs, and bicycle interests, as well as first responders (police/fire/EMS).  They also held public meetings to solicit input from the public regarding needed improvements to the corridor and to show them the proposed solutions to achieve the goals of reducing crashes and improving mobility.
Phase 1 implementation of the recommended improvements led to construction in April 2023.  These improvements were funded with safety funds. 
Further, this initial project will construct a raised median where the continuous two-way left turn lane currently exists which can be a very unpopular treatment until folks get used to navigating the changes in their trip pattern.  TxDOT has worked successfully with other communities to deploy a raised median. Please remember, the purpose of the project is to reduce crashes – especially the most severe type of crashes such as head-on and T-bone type collisions.  Raised medians are very effective at reducing crashes.
FM 1488 Access Management Study from I-45 to FM 149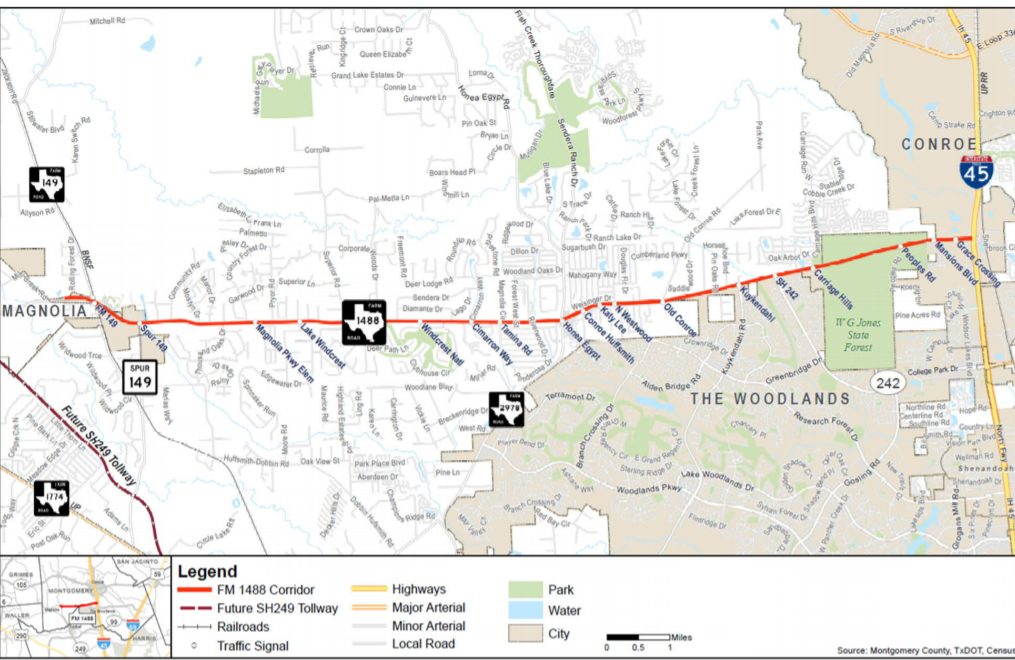 NHA President, Marlisa Briggs, sits on the the Steering Committee for the FM 1488 Access Management Study. FM 1488 is a four-lane roadway with a continuous two-way left-turn lane in the middle of opposing lanes of traffic. The goal of access management is to reduce crashes and improve mobility by limiting conflict points and better planning how vehicles move through a corridor.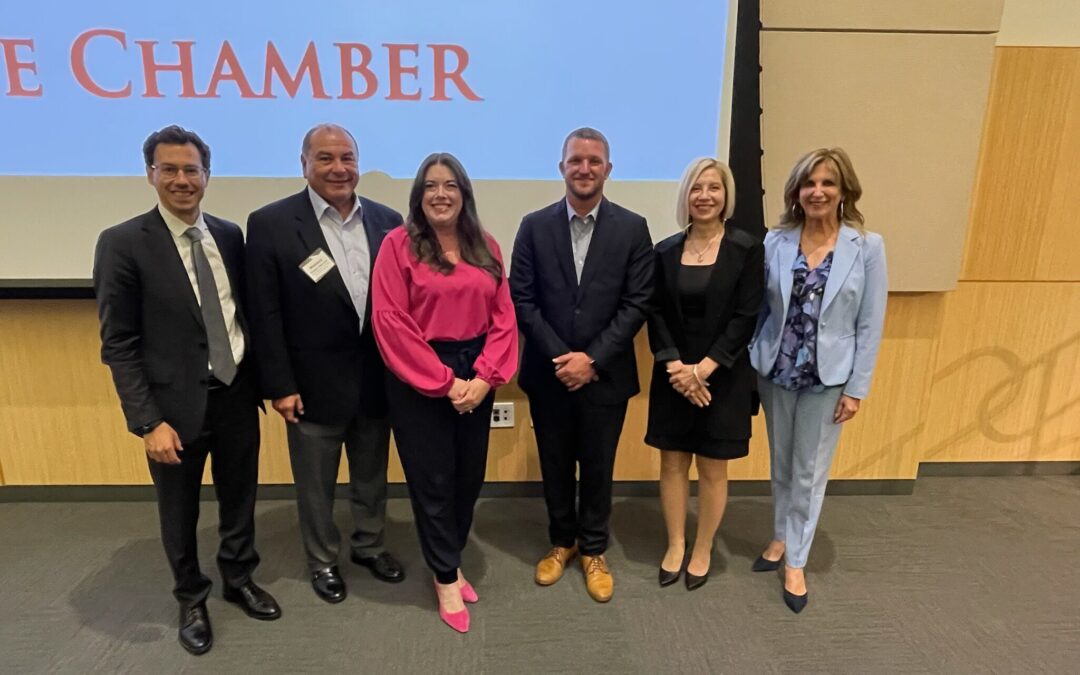 NHA covers an area of more than 1,100 square miles and within our footprint, we have quite a few area Chambers of Commerce. We partnered with some of them to host the State of Business in Texas, an event that featured the Texas Association of Business', President...