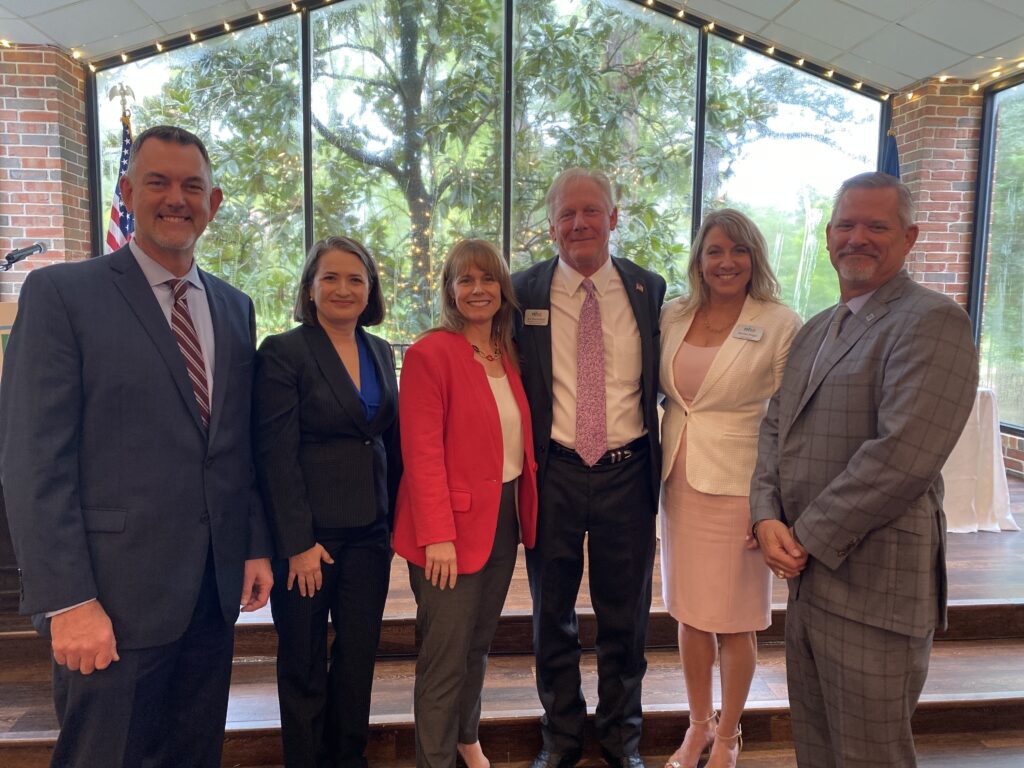 NHA kicked off our fall events season with the 5th Annual Flood Control Breakfast on August 31st, 2022. As no stranger to the topic of flood control, the Association began this event on the actual day Hurricane Harvey struck the region 5 years ago. The Shirley Acres venue, being on the bank of Cypress Creek, flooded completely along with over 100 thousand homes. Seeing just how touched the location and our audience was by the largest recorded rain event in US history, we created a tradition of hosting the experts in the region to discuss what could be done to prepare if a storm like that were to ever hit again.
This year's guest speakers were Harris County Flood Control District's, Dr. Tina Petersen, P.E., IDS Engineering Group's, Tim Buscha, San Jacinto River Authority's, Jace Houston, and Allen Boone Humphries Robinson LLP's, Alia Vinson as moderator.
The program began with Dr. Petersen, Director of Harris County Flood Control District, giving an update on the status of current projects that the district has begun in North Houston since Hurricane Harvey. In 2018, the Harris County voters approved a $2.5 billion bond program to invest equitably to reduce Harris County's flood risk by executing over 230 regional flood control projects in all of Harris County's 23 watersheds. According to Petersen, 229 have already been completed and many more have begun.
[flipbook pdf="https://www.north-houston.com/dev/wp-content/uploads/2022/09/Tina-Petersen-North-Houston-Assoc-Presentation_Event-on-8.31.pdf"]
The next speaker was Tim Buscha, Chair of the San Jacinto Regional Flood Planning Group's (RFPG) Region 6. The Region 6 RFPG was established in October of 2020 to develop a regional flood plan for the second most populated flood planning region including Brazoria, Chambers, Fort Bend, Galveston, Grimes, Harris, Liberty, Montgomery, San Jacinto, Walker, and Waller Counties. Their draft plan has been submitted to be finalized in January of 2023 with just over 470 projects identified and $31 billion in financial need.  
[flipbook pdf="https://www.north-houston.com/dev/wp-content/uploads/2022/09/Region-6-Generic-Presentation-2022_Rev-3_06.22.22-NHA-TEB.pdf"]
Last to present was Jace Houston, General Manager of the San Jacinto River Authority. He stressed the importance of partnerships in order to advance flood management projects because as we know flooding doesn't respect city or county boundaries. Through partnerships with 8 regional entities, the Authority received $1.375 million in local match to the $2.8 million already received from the Texas Water Development Board's Flood Infrastructure Funds (FIF).
[flipbook pdf="https://www.north-houston.com/dev/wp-content/uploads/2022/09/Jace-Houston-Presentation-SJRA-August-2022.pdf"]
Thanks so much to all who joined us for this wonderful panel and especially to our sponsors. We appreciate all of your support and couldn't continue our mission to connect if it weren't for you all.