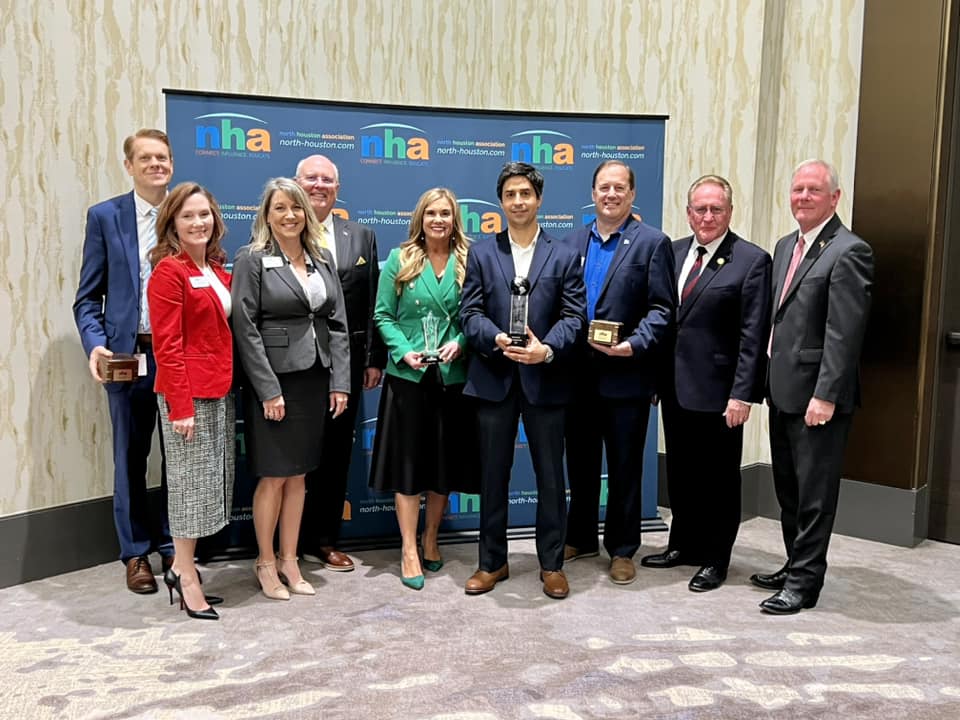 Each year, the North Houston Association holds an awards ceremony as an opportunity for our membership and the community to celebrate those who have done exceptional work over the past 12 months. This year, we celebrated two NHA members who have made an impact on the organization, Klein ISD superintendent, whose impact can be seen throughout the entire school district and region, and the Howard Hughes Corporation who has made wonderful developments throughout the nation and especially North Houston for over three decades.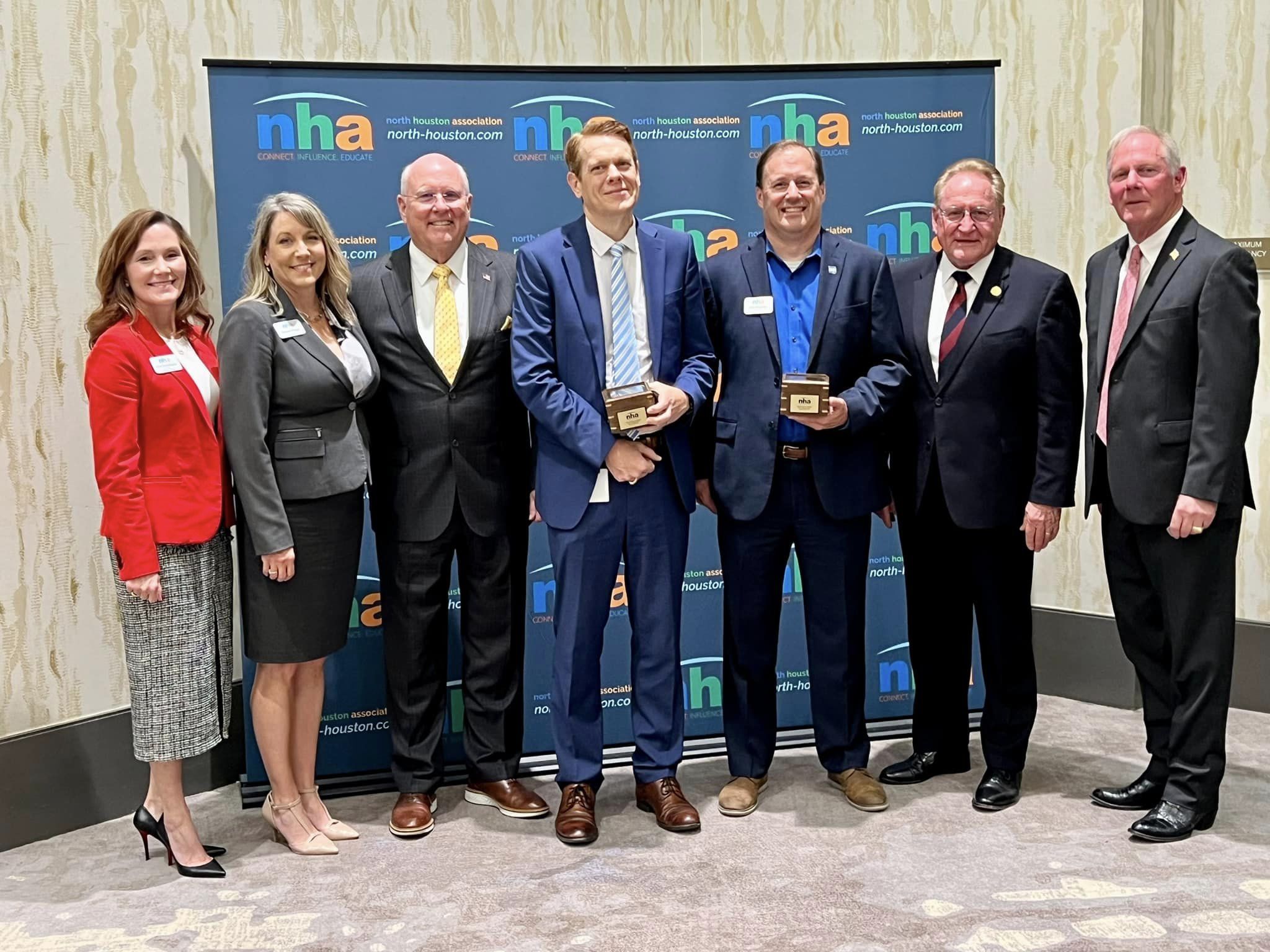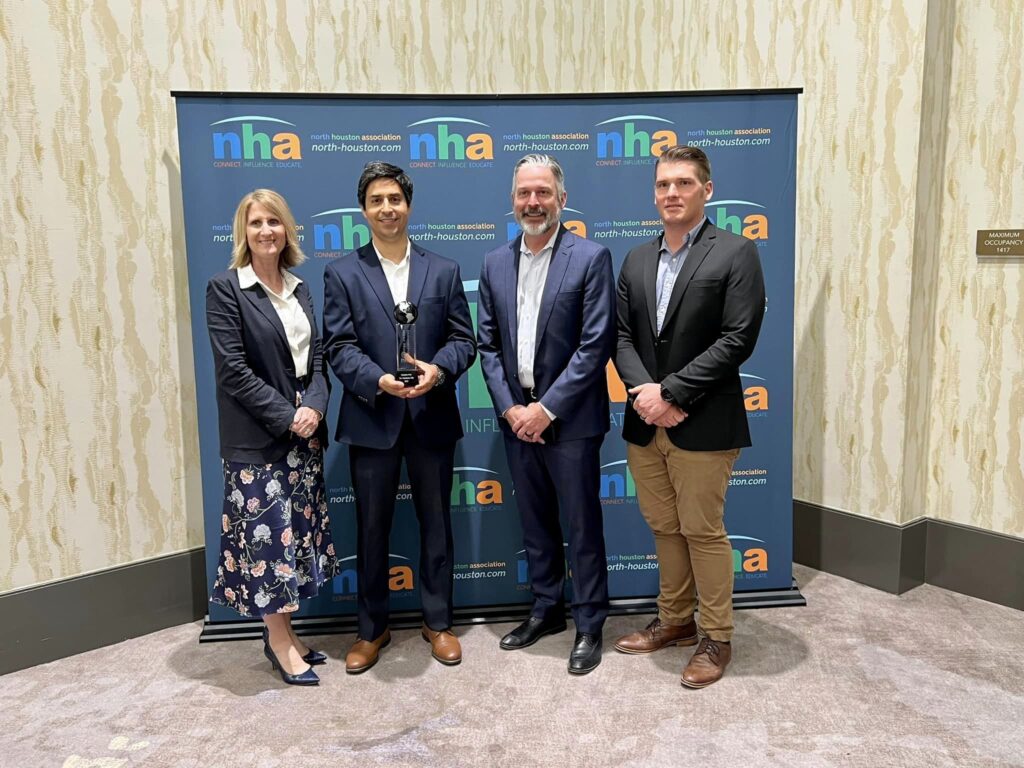 The first award given was the Compass Award, which is reserved for an NHA member, or members, who have made a significant contribution to the Association's programs and projects. The 2022 recipients were LJA Engineering's Michael Keck, P.E. and BGE, Inc.'s Megan Siercks, P.E. (accepted by BGE, Inc.'s Matt Brannen, P.E.). They earned this award for their work as the 2022 Strategic Mobility Plan Co-Chairs. The purpose of the Strategic Mobility Plan (SMP) is to identify mobility projects which are in need of either financial support or political/public support. The NHA SMP co-chairs met with more than 25 agencies, cities, precincts and organizations to gather their top priorities and unfunded projects and then shared a list of over 60 to the committee for voting and ranking.
The next award given was the Environmental Impact Award which is presented to a company or individual that has showcased insurmountable efforts in preserving and protecting the north Harris/Montgomery County region's environment. This year's award was given to the Howard Hughes Corporation for their Founders Park at the Woodlands Hills. Founders Park is a signature, 17-acre village park that provides a centralized green space for  The Woodlands Hills community and features a distinct 
connection to nature. The design objective aims to preserve and enhance the existing character of the site and transform it into an exceptional amenity that celebrates the natural topography and valuable ecological habitat, while also providing multiple levels of active and passive recreation.

Our final 2022 award given was the North Star Award, which recognizes an individual who has made a long-term, significant contribution to the north Harris/Montgomery County region. Dr. Jenny McGown, Klein ISD Superintendent earned this one through her outstanding work in the region and school district.
Because of Dr. McGown's unique insight into education and her visionary and dynamic leadership style, Klein ISD proudly aspires to know every student by name, strength, and need, and, as a result, she was instrumental in developing unique pathways for students to earn advanced degrees before high school graduation, including the Advanced Nursing Pathway and the first-in-the state Geospatial Engineering and Land Surveying Pathway
While receiving her award, Dr. McGown expressed her love and gratitude for Klein ISD and passionately shared what an honor she felt it was to get to shake the hands of over 4,000 Klein graduates that would soon be crossing the stage at the 2023 commencement ceremonies.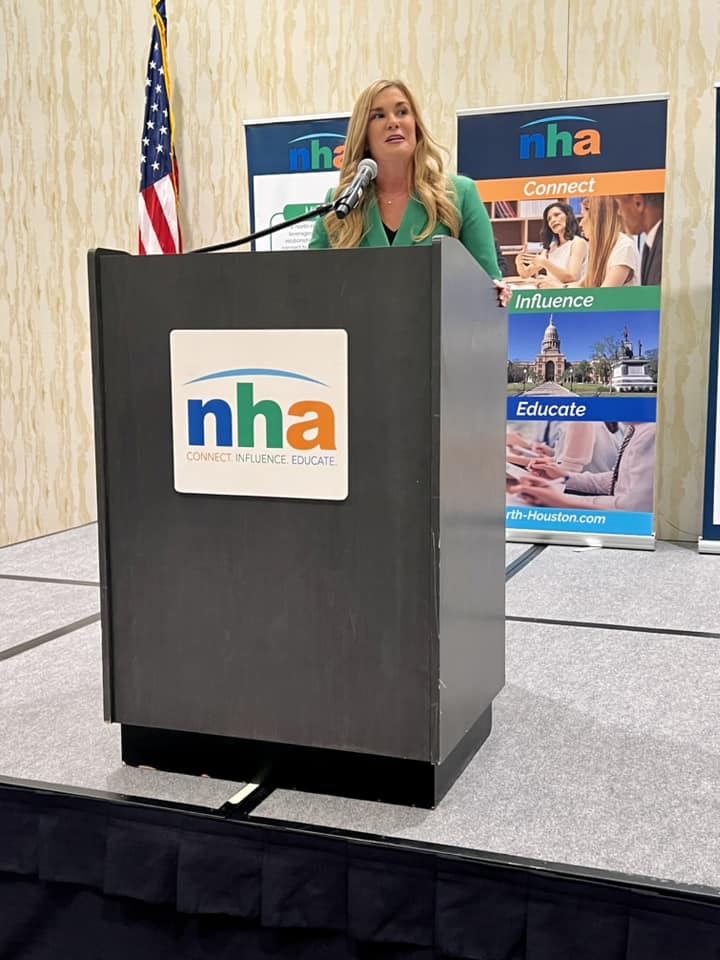 With all of the 2022 awards distributed, the event quickly shifted focus to the state of the county addresses that would be given by Harris County Pct. 3 Commissioner Tom Ramsey, and Montgomery County Judge Mark Keough.
Commissioner Ramsey spoke first and shared a video from his Road to Greatness program which is the precinct's corridor maintenance program that allows their team to address an entire corridor at one time which will ultimately reduce the number of service requests over the next 3 to 5 year period. The commissioner also shared some of the active projects they have going on in the precinct including Holderrieth Road from SH 249 to West of Huffsmith Kohrville Road and the Spring Creek Greenway. Commissioner Ramsey also applauded Judge Keough's

county for their approach in their animal shelters, which unlike some in Harris County, euthanize none of their animals. Following his comments and thanking him for the recognition, Judge Keough took the stage to share more of the good going on in Montgomery County. The Judge commented on how quickly the County was becoming a hotspot for new development and recognized the growth that is occurring as a result of the intention put into making the county, safe, navigable, and enjoyable for its residents. Judge Keough also spoke about the efforts the law enforcement takes to keep the quality of life up and the quantity of crimes down by matching the level of punishment to the crime and letting those who would choose to do wrong know that in Montgomery County, they prosecute. Thank you to both Judge Keough and Commissioner Ramsey for taking the time out of their busy schedules to update our group on all things North Houston. We truly appreciate y'all. 
Thank you to our sponsors who continue to support us
and help us host these wonderful events!
Without you, this wouldn't be possible.