How to Join our Virtual Committee Meetings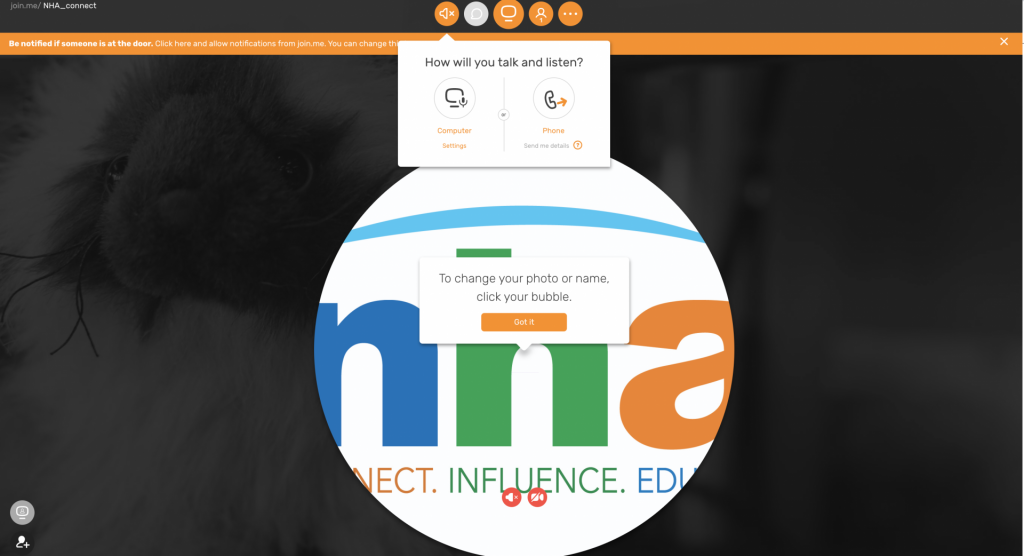 Our committee meetings will be held at 12 PM noon on their respective dates using the Join.me platform
The following steps will help you participate in the meetings:
1. Go to Join.me/NHA_Connect
2. Choose how to talk & listen to meeting (Computer or Phone) *you can use your computers audio without using the video* Please mute the audio once you've made a selection.
3. In the top bar you will see 5 icons.
The first will allow you to turn on and off your speaker
The second will allow you to participate in a chat with the other participants. Use the list at the bottom of the chat section to select @all or the individual person you want to chat with.
The third allows you to share you screen. Please do not use this button unless previously discussed with NHA staff, it may throw off the speakers presentation.
The fourth button will show or hide the participants list & icons
The final button is for 'tools' and allows you to record or leave the meeting